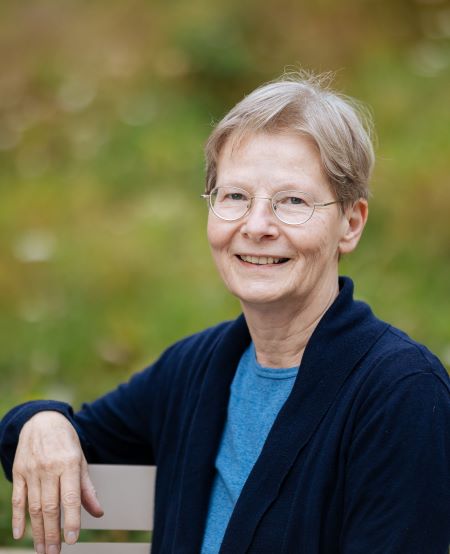 I am a German livestock development specialist with a special interest in ecologically responsible approaches to agricultural and livestock development:
Ecologically responsible approaches to agricultural and livestock development
Indigenous knowledge and local resources, their documentation and application in communities and for development
Integrated livestock healthcare and production for smallholders and pastoralists
Ethnoveterinary medicine (traditional knowledge of animal production and health care)
Livestock and climate change
Gender issues relating to livestock
Participatory approaches.
---
Qualifications
MS in International Development Studies, Iowa State University, Ames, Iowa, USA
Certificate of Specialist in Tropical Veterinary Medicine (Fachtierarzt für tropische Veterinärmedizin), Veterinary Board, Hessen, Germany
Doctoral Degree in Veterinary Medicine (Dr med vet, equivalent to PhD in USA), Institute of Tropical Veterinary Medicine, Justus-Liebig University, Giessen, West Germany
Research on swamp buffaloes at the Department of Obstetrics, Gynaecology and Reproduction, Faculty of Veterinary Science, Chulalongkorn University, Bangkok, Thailand
State Examination in Veterinary Medicine (equivalent to DVM degree in USA), Faculty of Veterinary Medicine, University of Giessen, West Germany
---
Skills
Writing and editing of information materials and publications
Field research and desk studies
Training and capacity building
Networking
Project evaluations
Organization of (multi-stakeholder) workshops, writeshops, conferences and side-events at international government meetings
Lobbying and giving presentations on indigenous knowledge, ethnoveterinary medicine, community-based animal health care and conservation of animal genetic resources, and rights of communities to their resources
Project development and administration, including finance administration.
---
Languages
Fluent in German and English
Satisfactory Indonesian and French
Some Thai
---
Countries
Long-term work experience (5 countries): Germany, Indonesia, the Philippines, Thailand and the USA
Short-term experience (24 countries):

China, India, Japan, Malaysia, Nepal, Papua New Guinea
Belgium, Denmark, France, Italy, Lithuania, the Netherlands, Portugal, Switzerland, UK
Ethiopia, Kenya, Lesotho, South Africa, Tanzania, Tunisia, Uganda
Brazil, Canada

German national
---
Work experience
Since 2015: Newsletter editor, researcher and administrator, Bundesverband Berufsschäfer (German Pastoral Farmers Association).
Since 1996: Independent consultant
Clients
League for Pastoral Peoples and Endogenous Livestock Development (LPP)
Lokhit Pashu-Palak Sansthan (LPPS)
Intermediate Technology Development Group (UK and Kenya, now Practical Action)
International Livestock Research Institute (ILRI)
Misereor
Vetaid Tanzania
University of Victoria, British Columbia
LID (now The IDLGroup)
Centre for International Research and Advisory Networks (CIRAN) of Nuffic
German Church Development Service (EED)
Food and Agriculture Organization of the United Nations (FAO)
German Agency for Technical Cooperation (GTZ)
Germany NGO Forum Environment & Development (FUE)
1993-96: Co-ordinator of the Regional Program for the Promotion of Indigenous Knowledge in Asia (Reppika) at the International Institute of Rural Reconstruction, Philippines
1993-96: Corresponding editor, Indigenous Knowledge and Development Monitor
1991: Research on traditional veterinary medicine of sheep and goats among farmers in West Java, Indonesia
1988-92: Research associate, Center for Indigenous Knowledge for Agriculture and Rural Development (CIKARD), Iowa State University, Ames, Iowa
1989-92: Member, Editorial Board, CIKARD Newsletter, Center for Indigenous Knowledge for Agriculture and Rural Development, Iowa State University
1985-86: Volunteer, Yayasan Indonesia Hijau (environmental conservation project), Bogor, Indonesia
1981-85: Visiting lecturer of the German Academic Exchange Service, Department of Reproduction, Faculty of Veterinary Medicine, Bogor Agricultural University, Bogor, Indonesia
1978-79: Field research on feeding behaviour of goats in Tunisia
1977-78: Student assistant at the Institute of Tropical Veterinary Medicine, Giessen, Germany.
---
Awards
Oberly Award (honorable mention) for worldwide bibliography on ethnoveterinary medicine (with Constance McCorkle), 1991.
---
Professional associations
League for Pastoral Peoples and Endogenous Livestock Development: member (since 1997), treasurer and board member (January 2001-April 2011), network coordinator (2006-2010)
Alumni of German Academic Exchange Service (DAAD)
German Veterinary Association
Global Indigenous Knowledge Network (to 2004, when the network ceased)
AGRECOL (member (since 1999), board member (2003-6)
---
Publications
Numerous articles, conference papers, extension manuals and literature reviews on ethnoveterinary medicine, appropriate livestock health care, indigenous knowledge, swamp buffaloes, goats. Click here for a full list.
---
References
Available on request.
---
Availability
I undertake short-term consultancy assignments (no longer than 4 weeks at a time). I will consider long-term work in Europe. For family reasons, I am not currently considering long-term employment overseas.
Consulting work is inherently uncertain: funding doesn't come through, projects are delayed, or a competitor may win the bid. Because of demand, I try to plan my work at least 9 months in advance. It is sometimes necessary to juggle dates to make things fit the calendar.
I am occasionally able to take on activities at short notice if a prior commitment falls through, or if it happens to fill a gap in my calendar.
Contact me to check on my current list of commitments. Email messages are forwarded to me while I'm away if I am somewhere with email access.
---
Rates
My consultancy rates are negotiable: they depend on the client (less for impoverished NGOs), location (less if I can work at home) and type and duration of the job. I can charge per day, or for a completed job (depending on the estimated amount of time the job will take). The client also pays any expenses (airfare, visas, hotel, per diem). This email address is being protected from spambots. You need JavaScript enabled to view it. for details.
This email address is being protected from spambots. You need JavaScript enabled to view it. for a full curriculum vitae and list of publications.